Contemporary Jazz Classes - Beginners & Intermediate/Advanced
---
This is how my Contemporary Jazz classes look like (Times and address at the end of the video are not correct any more!!!)
My Contemporary Jazz Classes
My classes are split in three parts:
the warm up
the technique-block
the choreography
Each class is following this structure. This way you are able to practice every week and get better by repeating each time.
After practicing one choreography for a few weeks, I change it and we start learning a new one for the next weeks. Like that we intensivly learn one style of Jazz Dance for about 4-5 weeks and after get to practice a totally different style in the next choreography. Thus you manage to build up a huge repertoir of movements and be able to move your body in many different ways!
Part 1: The Warm-Up
Each class starts with a classical Warm Up: we move our body to modern music andwarm it up slowly. The exercises contain movements as following:
rolling shoulders
roll down
isolations
push ups
tendues
jettés
plies
piruettes
At the end we take our time to stretch and finish up with activating our center with sit ups.
All these exercises are built up on classical ballet, but here we dance to modern music full of energy and break up the hard technique with easy danceparts.
At the end of the warm up our body is warm, stretched, and activated. Now we can start working with our bodies!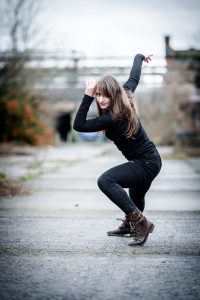 Part 2:  Technique
In the second part of the class we start working more precisely on technique. Here you can lay all your attention on practising jazz walks, piruettes, jumps, coordination and much more.
Sometimes I like to break up the technique with some easy danceparts here as well.
Part 3: Choreography
At the end of each Jazz Dance class we dance a choreography. Here I mix elements from the whole class with other movements and we dance the steps many times to the music.
This is the part in the class where your  perceptivity is needed the most. But this is as well the part with most of fun:
Finally you can forget everything around you and just enjoy the dancing and the music!
---
Schedule
19:15-20:30h Beginners
20:30-22:00h Inermediate/Advanced
---
Which class/level suits me best?
Beginner:
you have never danced jazz dance and want to try it
you have danced jazz dance a long time ago and want to get back into it
you have no dance experience at all
you have dance experience, but in other dance styles
Intermediate/advanced:
you already have dance experience in jazz dance
you dance ballet or contemporary dance at a very high level (advanced) and would like to try out a new style
you've been in the beginner's class for a while and want to improve your jazz dance skills
you are a professional dancer and would like to take part in a challenging course
If you are not sure which level suits you better, please write to me at hello@evgenia-itkina.com 🙂
There are the following possibilities to participate:
Start with a trial lesson.
Pay each hour individually.
Buy a 10 card and have it stamped before the class starts. This is how you save in relation to the individual lesson.
Sign up for a subscription for regular participation and save even more.
Here you will find information about the prices and the terms and conditions (including subscription).
---
Come by and try it out! 🙂