A contemporary dance piece

H[D]EADline
---
A contemporary piece with 4 dancers is questioning a critical mindset with information.
Action, reaction, ignorance, manipulation?
Do we question what we see, read or hear? Do we get so much information through daily media that we are not able to question this information with a critical mindset any more? Do we turn into a herd of animals who just follows without thinking? May this be an indirect manipulation we don't know about?
---
Concept & Choreography: Evgenia Itkina
Dance & Creation: Anna Axmann, Cécile Stöhla, Evgenia Itkina, Franziska Willenbacher
Lenght: ca 60 minutes (no break)
Premiere: 16.06.18
Further performance: 17.06.18
Where: Laborgras, Paul-Lincke-Ufer 44A, 10999 Berlin
Entrance: 14,- Euro/ 9,- Euro reduced (students/ professional dancers)
Ticket reservation at: hello@evgenia-itkina.com
Supported by Papillon Tanz Studio am Ostkreuz, Dance Point Berlin
The choreographer:
Evgenia Itkina
Born 1987 in Moscow, Russia
After her graduation at Iwanson International School of Contemporary Dance in Munich in 2011 Evgenia is working as a freelance dancer and choreographer. Before moving to Berlin Evgenia was based in Munich where she was engaged as a choreographer and dancer in operas, as well as her own few contemporary pieces, which got shown in diverse festivals.
In 2013 she started working as a choreographers assistant  for Amir Husseinpour and Jonathan Lunn at Landestheater Niederbayern and after worked on a new Musical "Edison" for the Theater Straubing. 2015 Evgenia came back as a choreographer for pieces "Kiss me, Kate!" and "Jesus Christ Superstar" at Landestheater Nieberbayern.
With "H[D]EADline" Evgenia is presenting her first full-length contemporary piece in Berlin.
The dancers:
Anna Axmann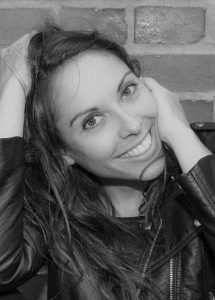 Born 1986 in Ulm, Germany
After graduating the contemporary dance education of Iwanson International School of Contemporary Dance in Munich (2009), Anna is working as a contemporary dancer in various dance productions both in Germany and internationally. She works freelance, but also at various theaters, for example at the Bavarian State Opera, Munich, Augsburg City Theater, Theater Passau or the Komische Oper, Berlin. In close cooperation with Daria Reimann (Switzerland) and Marcos Bento (Brazil), Anna is regularly seen on stage as one of the founding members and as a dancer of the company Tanztheater Baden in Switzerland. In 2018 she is invited to participate with Tanztheater Baden as a dancer and juror to Fendafor, a festival for contemporary dance in Brazil
Since September 2014 Anna is living and working in Berlin. In addition, she was currently working as a production assistant at the CHAMÄLEON Theater, Berlin or for theater and cultural administration.
---
Cécile Stöhla
Born 1985 in Lörrach, Germany
Cécile Ströhla completed her training as a contemporary dancer, and is currently a freelance dancer, choreographer and dance teacher based in Berlin.
Cécile started her career as a dancer at the playhouse of the Staatstheater Karlsruhe (National Theater Karlsruhe), and now choreographs and dances in independent projects, including film and video productions. Furthermore, she teaches at several dance schools and academies, and choreographs pieces for youth programs and formats throughout Berlin.
In addition, Cécile is regularly on stage performing her own pieces at various dance festivals, among other things her duet "Heaviness of Package" 2015, her solo piece "From-Inside-Out" 2016 and "Strangers 2017
---
Franziska Willenbacher
Born 1992 in Landshut, Germany
2014 Franziska graduated at the Iwanson International School of Contemporary Dance, as a stipendiary.
Since 2014 she lives, dances and creates in Berlin. After one year of postgraduate studies in ballett, improvisation and dance theater, she started to work as a freelance dancer in 2015. Since then she has been dancing in numerous dance projects for Robert Solomon, Ilianamaria Alvarado etc. Besides this Franziska is choreographing regularly short pieces for various dance schools in Berlin. Since 2016 she is working and choreographing across the country for the television broadcast MDR.
Also she is part of the Artistania e.V. association and the Grokenberger Kollektiv, where she collaborates with various artists, creates and shows her own productions.

In november 2017 we have shown a small work in progress piece of "H[D]EADline" at Patchwork on stage. Here you can see some pictures of that evening. Have fun!